Sizing
Most dress manufacturers provide size charts to aid in choosing your correct size. There is a link to the respective size chart on each product detail page. Size charts are helpful but do vary between dress manufacturers. Be sure to measure carefully, or be measured by a professional. If you are measuring yourself, please see our "Measurement Tips" section below.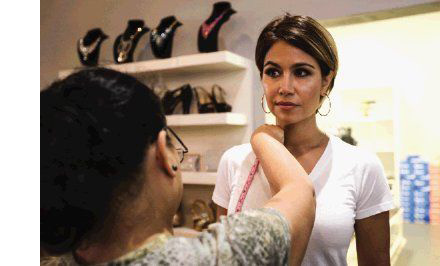 Remember that you can always take up a gown that is too large, but you cannot let it out if you order too small. If your measurements are on the border, it is wise to take the larger size and plan alterations. We find that most formal dresses require some alterations to get a perfect fit. Please do not hesitate to email or call us if you have any size questions. If you are ever in doubt our team of stylist is happy to schedule a call, or even a face-time/skype session to guide you through the measuring process.
Alterations
We've found that hardly anyone is an exact size in formal wear. Almost all special occasion dresses need some sort of alterations for the perfect fit. Check your local listings or ask for recommendations to find a good alterations/tailoring service near you.

Measurement Tips
Being measured professionally is ideal and will provide the most accurate measurements for ordering. Most tailors, alterations services or dress stores will do this for a small fee. If you decide to do it yourself, it's best to have someone help you so you can stand appropriately during the measurements.
Bust: This is not your bra size! Stand with arms relaxed at your sides. Pull the tape across the fullest part of the bust. It's easiest to have another person measure this for you so you can stand relaxed without twisting or using your arms.
Waist: Find your natural waist (the smallest part of the waist) which is usually about one inch above the belly button. Keep the tape slightly loose when measuring to allow for breathing room.
Hips: Find the widest part of your hips which is usually about seven inches below your natural waist. The tape should brush across both hipbones.
Height: Stand straight with feet together barefoot. Begin at the top of the head and pull tape straight down to the floor. Most evening gowns, even if not listed on the size chart, come with a very generous hem length. Unless you are very tall, a hem is almost always needed on a full length gown.